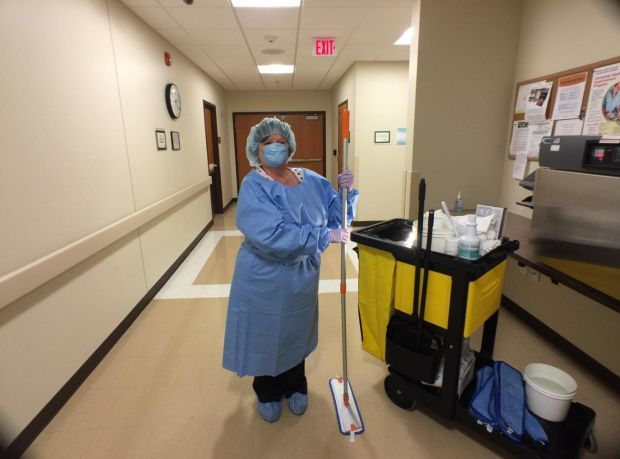 R8 000 – R9 000 a month
1 to 3 yrs. previous Housekeeping experience
Previous staff management (skilled and unskilled level)
Proficient on MS Word and Excel
Valid SA Driver's License & ID
Good numeric and administrative skills
Ability to lead, plan, organise and delegate
Ability to liaise at all levels
Self-starter, go getter and suitable initiative
Good people management skills
Able to manage a pool of staff working shifts.
Knowledge of full range of chemicals and various cleaning equipment
Administer all housekeeping and all laundry facilities and ensure secure environment for all staff.
Schedule all work for weekends and evening hours and assist Manager on Duty to prepare schedule for staff and organize an efficient everyday care of all buildings and public areas.
Ensure cleanliness of all office areas.
Administer efficient working of the housekeeping department at all times and supervise all work and ensure compliance to all operational standards and organization regulations.
Monitor all sub-activities for departments and maintain records of all expenses and control all costs for the department and recommend ways to increase efficiency.
Monthly stock count of all amenities to be done and ordering to be coordinated with Resident/FO Manager.
Design all housekeeping policies and procedures according to the required standards and schedule all rotational duties for staff.
Maintain safety and hygiene and perform all appraisals for staff regularly and coordinate with the front office staff.
Manage and analyse all incoming supplies and ensure compliance to all specifications and prepare all reports to be presented to management.
Day to day operational management of the lodge (Rooms and Public Areas)
Staff management including IR, manpower development and training
Maintain discipline by using the Company's disciplinary code and procedures, as well as attending to grievances
Manage the assignment of work schedules and drawing up rosters
Responsible for the on-going training and development of all staff
Managing and review performance of staff
Build and maintain professional client partnerships
Regular meetings with on-site management team
Conduct weekly meetings with the heads of department
Liaise and negotiate at all levels
Control of direct expenses and budget management
Oversee the upkeep of equipment on site and stock management
Maintain a high standard of performance and image of the Company
Skills and Requirements
Middle Management
SALARY – Salary negotiable within reason & dependent on experience and qualifications:
– 13% Provident – forms part of CTC package (compulsory membership).
– Medical aid for individual only, restricted to Classic Saver or below option on Discovery – forms part of CTC package (voluntary membership)
The remuneration will be discussed at the interviews or upon individual requests.
– Live-in Position & Meals provided on duty – single accommodation only.